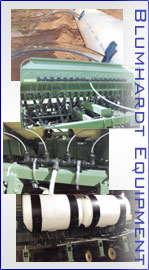 Welcome to the "NEW" Blumhardt Equipment. The facility is owned by Joshua and Robyn Schock. Just to clear up and confusion, Blumhardt Equipment is not affiliated with Wil-Rich Manufacturing in any way, shape, or form.
Blumhardt Equipment is in the small, friendly community of Ashley, located in south central North Dakota. The 52,000 square foot facility houses a full molding department which consists of 5 injection molding machines ranging from 100 to 475 tons and 1 extrusion machine capable of running tubing from 1/8" I.D. to 4" O.D. Also located at this facility is a steel and fabrication department, down draft paint system and full shipping department. All of our employees are extremely dedicated to his or her job and take great care in making sure the customer receives the friendly and helpful service they deserve and getting the product to you in a timely manner that you expect.
As you can see from our website, we manufacture an extensive line of plastic fittings which have endless usage. One unique feature of the Blumhardt line is our swivel fittings which can be used over and over. Other fittings were designed to be used on the Blumhardt Sprayers but can be easily adapted to any fitting on the market today for everyday use. The combinations are endless. All of our plastic fittings are injection molded in-house with pride and of course "Made in the U.S.A."
We also manufacture a full line of Liquid Fertilizer Application Manifolds for all row crop planters, grain drills, and cultivators. All Blumhardt Fertilizer Manifolds feature a unique "swirl" pattern orifice for precise application of fertilizer or chemical and eliminates all chances of clogging and the need for expensive and unnecessary monitors. With eleven different sizes to choose from any amount of liquid can be applied to any crop. All manifold systems are available in 2 to one hundred runs and are very user friendly and easy to install.
Along with the Blumhardt Liquid Fertilizer Manifold Systems we also manufacture Fertilizer Tubeholders which aid in putting the fertilizer in close proximity to the seed. Our Fertilizer Tubeholders are available for virtually every row crop planter, grain drill, and cultivator on the market today, old or new. All mount very simply to the opener or shank of the implement and are available in mild steel or 100% stainless steel for unbeatable protection against corrosion.
We also manufacture our own line of Bulkhead Fittings ranging from 1/2" to 2" sizes for chemical, fertilizer, or liquid storage tanks, Blumhardt Flood Irrigation Gate Valves for flood irrigation of particular crops, and 9 different sizes of tubing for endless usage of liquid transfer. Our tubing works great for underground sprinkler systems and above ground water transfer for your lawn and garden. Our larger sized tubing is capable of handling up to 175 p.s.i. and is an alternative to steel air lines. We also carry three different sizes of tanks for liquid storage and transfer.
Although the Blumhardt Sprayer line is no longer manufactured at this facility we carry many replacement components for the Blumhardt Sprayers and many sprayers on the market today. From electric solenoid valves and repair kits, spray nozzle assemblies, foam marker parts and components to sprayer control panels, linestrainers and filters, Blumhardt Equipment is the place for all your Chemical Broadcast, Band Spraying and Liquid Fertilizer Application needs.